MICROPROCESSOR SYSTEM MILLCONT 2
PURPOSE OF THE SYSTEM
Microprocessor system MILLCONT 2 is purposed for automation and optimization of different kind of mills for grinding of cement, raw materials, ores, coals, coke etc in cement, dressing and power industries and other related branches. The system works at optimization criteria "Maximum productivity, respectively minimum specific power consumption for grinding at changes of the material qualities as size, hardness, grindability and upholding the fineness of grinding within set-up ranges.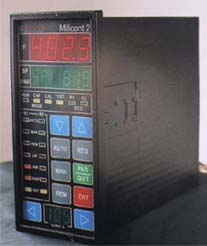 PRINCIPLE OF THE SYSTEM OPERATION
By means of special remote sensor SRIP, mounted approximately 20mm from the case of rotary mills or special direct sensor SDIP, mounted on the case of stationary mills are measured impact pulses generated at material grinding. The signals of the two sensors are sent to double-loop microprocessor module, where by the software way are formed synthetic "factor of grinding FG", which are related with material resistant layer against the penetration of grinding bodies in the zone, where the sensors are mounted. The forming FG are sent to two specialized PID-controllers, which change the flow rates of inlet materials so, that the optimization law to satisfy. At wet grinding of raw materials and ores when the second sensor is mounted in zone of slime formation, respectively pulp formation, the slime viscosity is measured, respectively pulp density, which can control by inlet water. For this aim "factor of slime FS" is synthesized.

ADVANTAGES OF THE SYSTEM:
• FG and FS aren't influenced from the work of near-by mills and others aggregates;
• Measuring of resistant properties of material layer in the zone of sensor mounting and obtaining in time truthful information for their changes;
• Eliminating of uninformation resonance vibrations of mill's case;
• In case of FG change it can control the wearing out of grinding bodies and lining;
• At abruptly FG change it can define a mill breakdowns (destruction of grids and lining, clogging up from inner bodies etc);
• The sensor signal is sent at distance up to 200m without additional amplification.